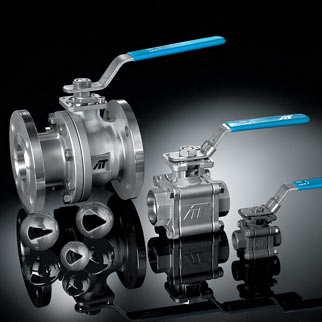 V Series: Full V-Port Control Valves
Triac® V-Port Control Valves are ideal for achieving more precise control with the simplicity and sealing features of a ball valve. The V-port valves are available with 15°, 30°, 60°, & 90° V-notch options (custom cut also available). V-port valves offer better and more consistent control than traditional round ported ball valves. We offer this valve with the control port cast and machined into the ball, not in the seat, which allows for much better flow characteristics and eliminates the need to replace seats. The 15° and 30° options allow for finer tapered control throughout the valve rotation, and the 60° & 90° offer a larger Cv in addition to controlled flow.
The PTFE seat is standard in the V7 valves, while the 50/50 STFE seat is standard with V8, V9, and FVD9 V-port valves. The 50% 316 SST powder and 50% PTFE offers both strength and superior sealing properties.
While they are available as manual ball valves, we specialize in automating them to suit your particular control requirements.
Features
Sizes 1/2"-4", 3-Piece (V7, V8)
Sizes 1/2"-6", 150# Flanged (V9)
Sizes 1/2"-6", 300# Flanged Firesafe (FVD9)
316SST or WCB
TA-Luft Certifed Low Emissions (V8, V9)
15°, 30°, 60° & 90° "V" Notch Standard (Others on request)
See product catalog for detailed product information.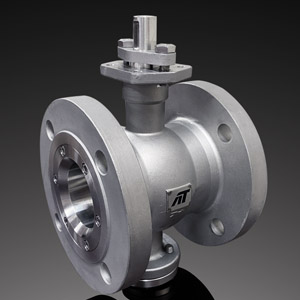 VS/VV/VM Series: Segmented V-Port Control Ball Valves
The A-T Controls V Series rotary valve is a throttling control segmented ball valve that provides high flow capacity with optimum characteristics for industrial markets including Pulp and Paper, Refinery, Chemical, and Petrochemical Industries.
VS Series - 50/50 STFE Seat
VV Metal Seat - Viton® Seat Packing
VM Metal Seat - Graphite Seat Packing
Features:
1-pc body design reduces leakage paths
V-ball provides large dynamic pass of fluid, including solid particles
V-ball with top and bottom bearings reduces operational torque
Rotary-valve design allows the cutting of solids between the v-ball and the seats enabling the fluid to pass smoothly without obstructions
Spring live-loaded metal seats with Viton® or graphite backing
Interchangeable soft seats and metal seats to satisfy various applications. Seats can be easily changed in a few simple steps.
Automatic pressure relief design
Nearly equal percentage flow characteristic
Available in flangeless or flange connection
ISO 5211 mounting pad
Anti-static device
Easy to remove cap design simplifies seat changes and installation of repair kits
V-Port Segmented Control Valve Applications:
Slurry and Viscous Fluid | Powder and Particles in Fluid | Chips and Fibers in Pulp and Paper Process | Flow Control | Pressure Control | Steam | Gas| Liquid
These valves hold CRNs (Canadian Registration Numbers). Use the search bar on our site to access the CRN certificates; search "CRN".