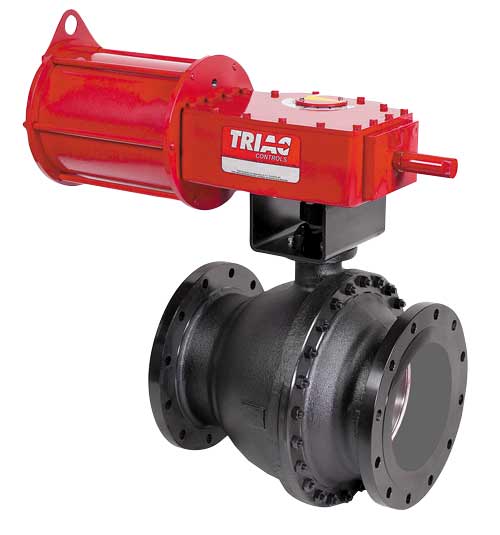 THD Series: Heavy Duty Scotch Yoke Actuator
Heavy Duty Pneumatic Actuators for Quarter-Turn Valves and Dampers
Torques to 1,600,000 in. lbs.
Available in Double Acting and Spring Return
Travel adjustments ±8º for clockwise and counter-clockwise strokes
Nitrile rubber piston O-rings offer excellent sealing and wear. Optional low and high temperature seals and lube are available
RTFE Guide Band supports piston while providing smooth operation and extended life
Extra-large, strong piston rod for long life and torque transmission
NAMUR accessory mounting pads for standardized mounting of limit switches, positioners, etc.
Ductile iron center body
Modular design allows for installing power groups and spring cartridges so that actuators may be set up for different air pressures and for Fail Clockwise and
Fail Counter-clockwise
Rugged heavy-duty steel pressure cylinders chrome plated for long wear and corrosion resistance
Safe, welded spring cartridges with numerous options for a broad range of air pressure conditions
Alloy steel, corrosion resistant and heat-treated springs designed and manufactured for long high cycle life
Steel slide block, bronze slide bearings to minimize friction and provide long cycle life (Not available on the S09 pressure group)
Visual position indicator
The TRIAC® heavy duty scotch yoke actuator product line offers a broad range of torques to 1,600,000 in-lbs. The THD series is designed to operate ball, butterfly, plug valves, dampers or any device that requires a quarter-turn movement for on-off or throttling service. Our standard offering is the symmetrical design yoke that delivers maximum torque at both ends of the 90º cycle. The square slide bearing with guide bar provides high cycle life and smooth stroke while minimizing wear points. Also available is a canted yoke design, which is ideal for butterfly valves in sizes C11 and larger.
As with all TRIAC® actuators, our THD series is accompanied by a complete line of accessories, including jackscrew & hydraulic overrides, limit switches, solenoids and positioners. A-T Controls also offers complete mounting hardware to integrate our actuators with any quarter-turn valve, damper or louver.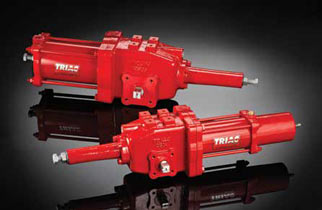 SY Series: Small Steel Scotch Yoke Actuator
Steel for Outstanding Corrosion Protection
Pneumatic Actuators for Quarter-Turn Valves and Dampers
Torques from 800 - 12,370 In-lbs.
Double Acting
Spring Return
TRIAC® SY Series scotch yoke actuators by A-T Controls offer "workhorse" cycle operation. These rugged multi-purpose actuators are the compliment to the already trusted THD Series. The compact design offers options to address your quarter turn torque requirements.
The SY Series is a reliable way to automate quarter turn valves and provides options for accessory mounting and manual override operation. The design is modular and allows for easy rotation choices. Simply flip the actuator to achieve clockwise (CW) or counterclockwise (CCW) operation.
This design features a supported scotch yoke which is stabilized by significant body bearings for minimal wear. Various spring and pressure options allow you to achieve the torque balance you need. Increased efficiencies in this design give you the most actuator for the money.
For many applications, steel is just better. These small steel scotch yoke actuators, compared to aluminum, provide better corrosion resistance in harsh environments such as marine salt water and petro-chemical applications. Additionally, surface coatings adhere better than aluminum. When your application calls for rugged and reliable valve actuation, rely on the TRIAC® SY Series