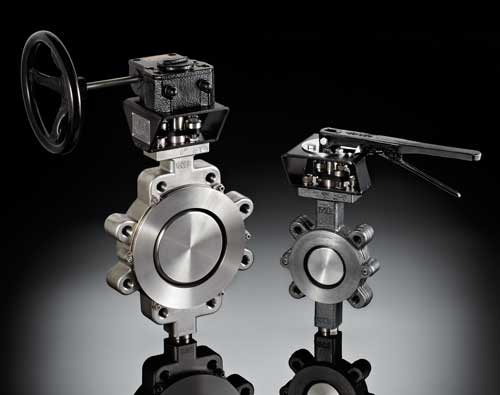 High Performance Butterfly: POWER-SEAL Series
POWER-SEAL High Performance Butterfly Valves ANSI/ASME Class 150 and 300
PS and P1S Series - Soft Seat design
Soft seat for bubble-tight shutoff of general purpose applications. (PS soft seat material is RTFE. P1S soft seat material is G2TFE).
PF and P1F Series - Firesafe seat design
Primary soft seat for bubble-tight shutoff backed up by secondary 316L SST firesafe seat. Secondary firesafe seat provides Class V shutoff when primary soft seat is compromised in a fire event. (PF soft seat material is RTFE/316L SST. P1F soft seat material is G2TFE/316L SST).
PM and P1M Series - Metal seat design for specialized applications
316L SST seat for Class V shutoff of high temperature applications. Standard disc with this series is 316 SST with HCr.
PH and P1H Series - Metal seat design for high temperature
Inconel 625 seat and 316 SST with Stellite disc is recommended for extreme temperatures.
Features and Benefits
Available inventory includes sizes 2"-36". Larger sizes available upon request
Standard body materials are 316 SST or WCB. Application specific options include: Alloy 20, Monel, CD3MN, Hastelloy C-276, Inconel 625, Aluminum Bronze, LCB and others.
Refer to catalog for standard seat materials for each series. Application specific seat materials include: 50/50 STFE, PTFE, TFM-1600 and Inconel 625.
Soft and Firesafe seat designs offer bubble-tight, bi-directional shutoff to full ANSI/ASME Class 150 and 300 standards. Metal seat design offers Class V shutoff.
Blow out proof stem design
Live Loaded Packing
Application Specific Stem Packing
Internally Cast Travel Stop
These valves hold CRNs (Canadian Registration Numbers). Use the search bar on our site to access the CRN certificates; search "CRN".