APL Series: CSA Approved Limit Switches
The Triac® APL Series Limit Switches feature high quality, easy to use, multiple option switch boxes for rotary actuators. Their die-cast aluminum housings are powder coated for corrosion resistance and feature open/close visual indicators, quick-set cams and easy access terminal strips. These economical switch boxes offer numerous switch, sensor and transmitter options to handle most applications found in today's process and industrial markets.
Features:
Die-cast aluminum powder coated enclosure | Captive cover bolts | NAMUR mount brackets | Quick-set spring loaded cam | Dome visual indicator (3-way available) | Up to four switches on APL 3, 4 and 5 and various mechanical, proximity and reed type sensors, feedback potentiometers and 4-20mA transmitter options.
APL 2 Series "Compact" Switch

CSA Approved, Type 4X
Solid, compact, low-profile design
Dual 1/2" NPT conduit entries, 8 pts. on terminal strip
Ambient temperature range -20°C to 80°C
(2) SPDT mechanical micro switches
APL-218 (2) SPDT gold plated micro switches make it useful as a simple device for intrinsically safe applications.

APL 3 Series Limit Switch

CSA Approved, Type 4X
Rugged and flexible design
Dual 1/2" NPT conduit entries, 8 pts. on terminal strip
Ambient temperature range -20°C to 80°C

APL 4 Series Limit Switch

CSA Approved, Class I, Division 1, Groups C & D T6 Class I, Zone 1, AEx d IIB, T6, Ex d IIB, T6, Type 4X/6, IP 66/67/68
ATEX/IECEx rating available: Ex d IIB T6 Gb (APL-410N-ATEX)
Dual 3/4" NPT conduit entries, 8 pts. on terminal strip
Ambient temperature range -20°C to 60°C

APL 5 Series Limit Switch

CSA Approved: Class I, Div 1, Grps B, C & D T6; Class II, Div 1, Grps E, F, G; Class III - Class I, Zone 1, AEx d IIC, T6; Class II, Zone 21, AEx tb IIIC T65°C Db;
Ex d IIC, T6; Ex tb T65°C Db; Type 4X/6, IP66/67
ATEX/IECEx rating available: Ex d IIC T6 Gb, Ex tb IIIC T85°C Db, IP67 (APL-510N-ATEX)
Available with Stainless Steel enclosure
Dual 3/4" NPT conduit entries, 8 pts. on terminal strip
Screw-on enclosure lid with spring loaded captive cover bolts - unique design to hold bolts inside cover
Ambient temperature range -20°C to 60°C (-4°F to 140°F)
Low temp option down to -50°C (-58°F) with C1, C3 switches only

APL 9 Series Stainless Steel Limit Switch

Type 4X, IP 67 (CSA Pending)
304 Stainless Steel Enclosure
Stainless Steel shaft & captive cover bolts
NAMUR stainless steel mounting bracket included
Ambient temperature range -20°C to 80°C

EX, EC, ES, EY, EW Series: UL Listed Limit Switches
The TRIAC® EX, EC/ES, EY, and EW Series hazardous location Limit Switches provide compact design and low cost for both visual and remote electrical indication of rotary valve/actuator position. Their heavy duty design and wide variety of options make them ideal for multi-purpose limit switch applications.
Features: twin shaft body design | "easy-set" cams | multiple switch options | valve position indicator | 1/2" or 3/4" NPT conduit entries | standard NAMUR mounting brackets | various models and options
EX Series:

Aluminum Housing
NEMA 4, 4X, 7 and 9 applications
Up to three conduit entries

EC/ES Series

Available in Aluminum (EC) or 316SST (ES) Housing
UL Listed type 4, 4X, Weather-Proof
Dual threaded conduit entries with extra terminals

EY Series

Low Copper Aluminum Housing
UL Listed type 4, 4X, 7 & 9, Explosion-Proof & Weather-Proof
Up to four conduit entries with extra terminal options

EW Series

L316 Stainless Steel Housing
UL Listed type 4, 4X, 7 & 9, Explosion-Proof & Weather-Proof
Up to four conduit entries with extra terminal options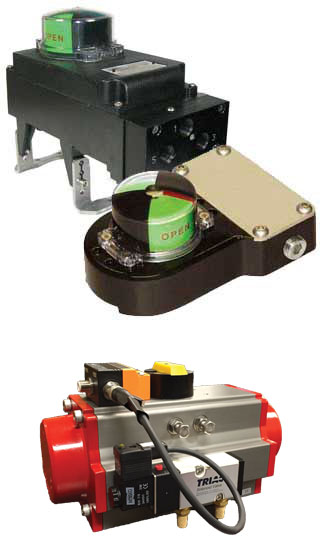 Special Application Limit Switches
HUBAS200EA13A Limit Switch
AS-i Omega, AS-i protocol with integral solenoid valve, limit switch, AS-i interface
HUBDB500GA45A Limit Switch
3-position dribble control system for spring return actuators
HUBDA500GA35A Limit Switch
3-position control system for double acting actuators (90º or 180º rotation)
Low Pro Sandwich Style Limit Switch - L2F14230
Low profile switch for use with other top mounted accessories
Puck Style Low Pro Switch
Available with 2 solid state sensors or AS-i protocol