NS Series Ball and Butterfly Valves | NSF 61 & 372 Rated
A-T Controls' NS Series floating ball valves and NS series butterfly valves are certified to meet the requirements of NSF 61 (Drinking Water System Components- Health Affects) and NSF 372 (Drinking Water System Components- Lead Content). This means that NS Series valves are certified for use (by Underwriters Laboratory) in water treatment, water purification, potable water, and water distribution systems and conforms with North American lead content requirements for "lead-free" plumbing.
These valves hold CRNs (Canadian Registration Numbers). Use the search bar on our site to access the CRN certificates; search "CRN".
NS butterfly valves are available in sizes 2" – 24", and have Class 150 wafer or lug flanges. (NS, NSP)
NS ball valves are available with threaded, socket weld, butt weld, Class 150, and Class 300 end connections. (NS20, NS22, NS55, NS90-F1, NSD9-F1, NSD9-F3)
Water Treatment | Potable Water Service | Reverse Osmosis | Desalination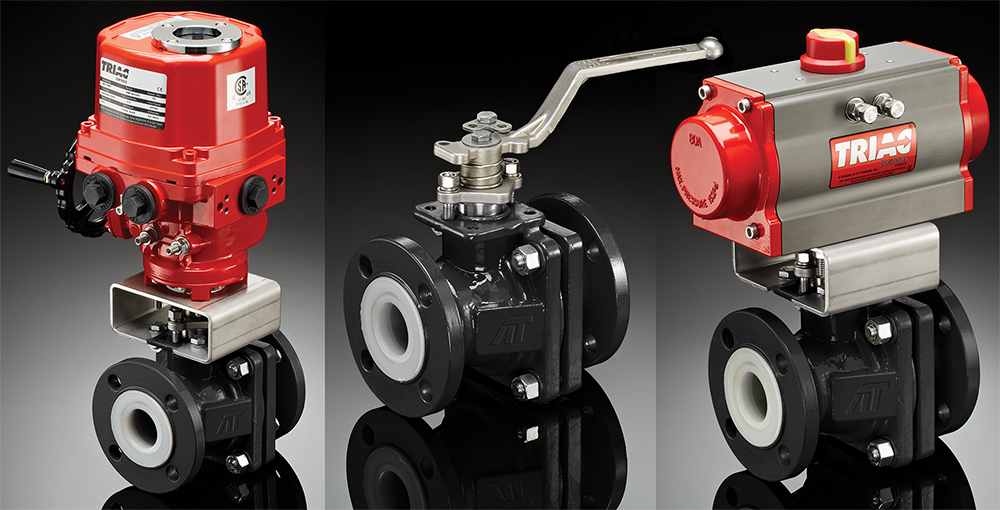 LB Series: PFA Lined Ball Valves
A-T Controls' Series LB ball valves feature the latest technology in PFA. These fully lined ball valves are available with stainless steel or epoxy coated carbon steel body. The superior PFA lining is able to withstand temperatures up to 400ºF and demonstrates greater durability than PTFE. This high purity PFA has extremely low gas permeability and outperforms other materials in critical services.
These split body valves feature adjustable packing. The lining thickness is at least 3mm. throughout the body and ball. One-piece ball and stem design reduces side loading and extends stem and packing life.
Sizes 1/2"-8"
Flanged Ends | ANSI Class 150
Full Port Design
Superior Packing System
PTFE Seats Standard
Lockable Manual Handle
Spark Test Standard (20 kV)
The A-T valves in this series hold CRNs (Canadian Registration Numbers). Use the search bar on our site to access the CRN certificates; search "CRN".
C8/CR Series: Cryogenic
Triac C8/CR Series 3-Piece Manual Ball Valves feature a direct mount automation pad. The high quality investment castings feature a fully machined bore. The superior live-loaded packing system is accomplished with Belleville washers, "V" ring packing and a unique primary pyramidal stem seal. This advanced sealing system provides for protection against stem leaks experienced by ordinary ball valves.
DR Series: 3-Way Temperature Control
For tank temperature control in the wine industry, A-T Controls offers custom solutions. On the SUPPLY side (3 position control, off/cooling/heating) and RETURN side (2 position, diverting from cooling and heating), our DR Series ball valves may be automated with Triac WE-500 electric actuators.
Sizes 1/2"- 2"
Regular Port Design (1/2" Full Port)
2000/1500 psi WOG (by size)
Available in 316SST or Carbon Steel
Threaded, Socket Weld, or Butt Weld Ends
Superior Live Loaded Packing System
For our White Paper on Temperature Control in Wine Making, go to the Resources tab > Applications > Temperature Control.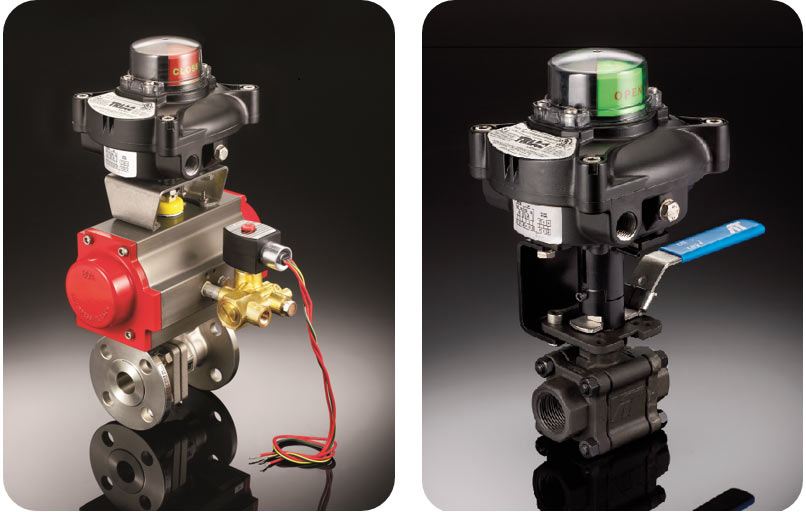 FM Approved Assemblies
Valve Assemblies for Liquid and Gas Shut-off Requirements
Supervisory Cocks
FM Approved
These assemblies are FM approved for use in applications requiring protection for fuel burning equipment per FM class 7400, 7412, 7420 and 7422. The components include a spring return automated ball valve, explosion-proof limit switch and solenoid pilot valve. Assemblies feature the latest in quarter-turn automation, rack and pinion actuator design; a marked improvement from the older spring-diaphragm technology. The actuator, combined with the superior valve seating and stem seal design, provides for reliable and consistent closure when needed. These assemblies provide for a compact fuel gas safety shut-off system.
Sizes 1/2" - 6", 316 SST or WCB
3-piece design with threaded, socket weld or butt weld end connections
Flanged design available with ANSI Class 150 or 300 rating
Manual safety cocks and automated safety shut-off valves
Solenoid approved for waterproof and explosion-proof environments
Valves feature patented pyramidal stem seal system
CSA Series Ball & Butterfly Valves | CSA 3.16 Certified
CSA 3.16 is a standard that certifies 1/4" – 8" valves with welded, flanged, or threaded ends for use in natural gas, manufactured gas, and liquefied petroleum gases that are suitable for use between -76°F to 356°F.
The certified pressure range for these valves is 0–125 psig, and the maximum permissible pressure of valves installed in these applications is 187 psig.
Each A-T Controls CSA 3.16 certified valve has TFM™-1600 seats installed, is production tested (seat leak tests in both directions and shell test), tagged with the date the valve was tested and CSA logo, and operation tested. The valves have been certified for service temperatures of -20°F to 149°F. A-T Controls certified 3.16:21 floating ball valves include our F88/F88C Series (1/4" - 3"), F90/F90C Series, and 6" Series 93/93C valves. A-T Controls certified High Performance Butterfly Valves include 2", 3", 4", 6" and 8" Series P1S valves.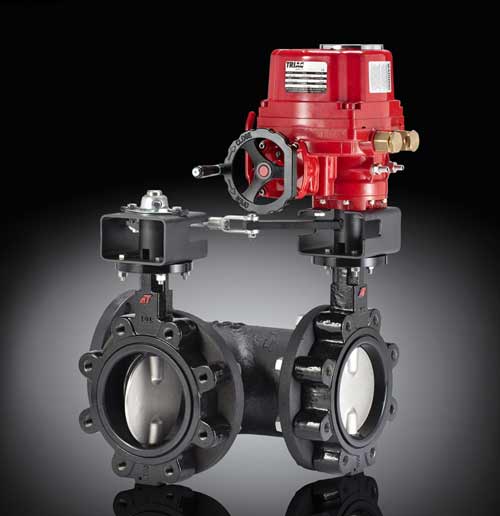 Butterfly Valve Tee Assembly
A-T Controls' Butterfly Valve Tee Assemblies provide a cost-effective, alternative to a 3-way valve solution. Available for lug style butterfly valves, these unique tee assemblies can be customized to fit your application. Consult factory for valve selection and assembly options.
Sizes 2" - 36"
Lug style Ductile Iron body
Various seat options for special application
Painless Stainless: Stainless Steel Ball Valve Packages
Painless Stainless automated packages include a stainless steel ball valve mounted to a TRIAC® Series S2 Stainless Steel Actuator with epoxy coated high tensile strength springs.
P1 Series: Piggable
This unique three piece stainless steel valve is specifically designed for pigging applications in SCH 10 pipes. The value has full SCH 10 pipe inside diameter to fascilitate the passing of a pipe pig to efficiently clean the line between various production batches.
Sizes 2"-4" (CF for 6")
Available in 316SST
Flanged or Socket Weld Ends
Blowout Proof Stem w/ Dual Anti-Static Devices
T5 Series: Tank Bottom
Triac® TB Series Tank Bottom Valve features the 316SST Series 55 valve body. The 3-piece design allows for easy maintenance and assembly. The weld-in-place tank pad is of 316L SST construction and bolts directly to the valve's center body. It can be fitted with a threaded, socket weld, butt weld or ANSI Class 150 flanged mating end.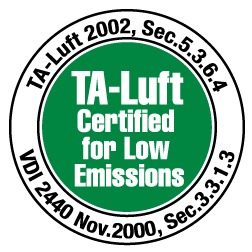 TA-Luft: Low Emissions Ball Valves
In March of 2007 A-T Controls received TA-Luft Low Emission certification for broad range of valves with a patented "Pyramidal Stem Seal" system. At that time fourteen different TRIAC series valves with the live-loaded packing system passed the TA-Luft standard that was established by the German TUV agency (Technischer Uberwachungs-Verein). Considered the world's most stringent standard on valve emissions, TU-Luft testing requires less than 1 ppm leakage through the valve stem.
Fugitive valve emissions are a major environmental and economic issue for process industries. TRIAC valves can reduce fugitive emissions and lost product by 99% or more compared to legacy control valves. A-T is excited to offer such a range of valve choices to help industries in their drives to reduce emissions.
The TRIAC TA-Luft certified valves employ a unique live-loaded pyramidal stem packing system. This features a patented 45° pyramidal stem and stem seal with Belleville washers and PTFE chevron style stem packing, protecting against stem leaks experienced with ordinary ball valves.
The TRIAC valves also feature a patented automation pad that allows direct mounting of ISO5211-compliant actuators to eliminate the cost and fabrication of special couplings or brackets.
A-T Control's product literature identifies each valve model carrying the TA-Luft certification with a green logo.
WB/W6 Series: Dual Valve Isolation
Installing an A-T Controls WB Series block & bleed valve assembly eliminates the need for isolation on well head pressure relief feed, filter skid pressure relief and dryer skid relief feed lines. This changes the dynamics of pressure relief re-certification! Eliminate the need for additional maintenance and component removal reduces down-time, and the possibilities of leakage and gasket replacement.