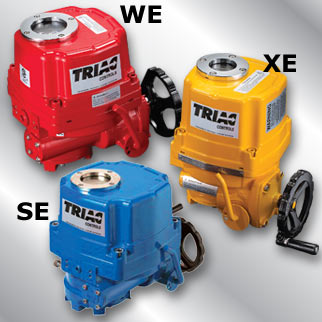 WE/XE/SE Series: Weather Proof, Explosion Proof, & Submersible Electric Actuators
WE Series (weather-proof) and XE Series (explosion-proof) electric actuators are specially designed for quarter-turn operating applications such as Ball valves, Butterfly valves, Plug valves, Dampers and similar valve automation usages.
WE Weather-proof - CSA Approved; TYPE 4 & 4X; Torques 350 - 80,000 In-lbs.
XE Explosion-proof - ATEX/IECEx Certified Ex d IIB T4 Gb, IP67; Torques 500 - 25,900 In-Lbs.
SE Submersible - Type 4, 4X, & 6; IP68 (10m 72hr)
Models to Note:
The WE-350 model is specifically designed to operate small size ball valves (1" and less), dampers and other quarter-turn devices.
The WE-500 and XE-500 electric actuators have a compact design, ideal for use with small ball valves (2" and smaller), dampers and other quarter-turn devices. They are compact and light due to high grade aluminum alloy housing. The hard-anodizing finish on the enclosure with polyester powder coating on the exterior surface equips this actuator with high resistance to corrosion. This actuator is the clear choice when a compact, efficient electric actuator is required!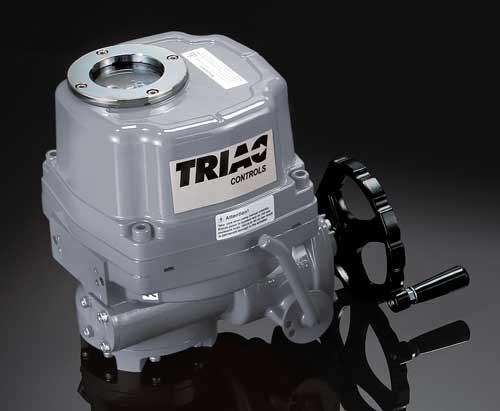 XC Series: Explosion Proof Actuator (CSA Approved)
CSA Certification - Class I, Division 1, Groups C, D T4 Ex d IIB T4 Gb Class I, Zone 1, AEx d IIB T4 Gb; TYPE 4, 4X, 6 & 7, IP66/IP67
The TRIAC® XC Series Actuators are CSA Certified Type 4, 4X, 6 & 7 for hazardous locations and meet UL 1203 standard. The actuators are rugged and reliable with powder coated anodized aluminum housing for use in oil, gas, chemical & power generation applications.
The XC Series is a perfect match for A-T's resilient or high-performance butterfly valves and dampers because of the self-locking, double reduction worm drive and torque switches. The XC Series is also ideal for ball, plug or any rotary valve requiring automation in a hazardous location.
Standard Features:
Visual position indicator
Torque switches (XC-01350 – XC-25900)
Anti-condensation heater and thermostat
Two auxiliary limit switches
Self-locking gear train
Manual handwheel with torque from 690 in-lbs to 25900 in-lbs
Available motor voltages: 12VDC, 24VDC, 24VAC, 120VAC & 220VAC
Optional proportional control
Various inputs with feedback available
KE Series: Worm Drive Weather Proof Actuator
The TRIAC® KE Series electric actuators are the perfect match for small resilient or high-performance butterfly valves and dampers because of the self-locking worm drive and low profile that makes them ideal for tight spaces. The KE Series actuators are used to control rotary valves, such as butterfly valves, ball valves, plug valves, etc. Widely used in applications such as petroleum, chemical, water treatment, ship, paper, power stations, heating supply, building automation, light industry, etc.
Standard Features:
Convex lens visual position indicator makes it easier to observe without water collecting on the surface of the indicator
Anti-condensation heater and thermostat
Two auxiliary limit switches
Self-locking gear train
Manual override with wrench
Available motor voltages: 12VDC, 24VDC, 120VAC & 220VAC
Optional 4-20mA & 0-10 VDC proportional control
8000 cycles @ 50% duty cycle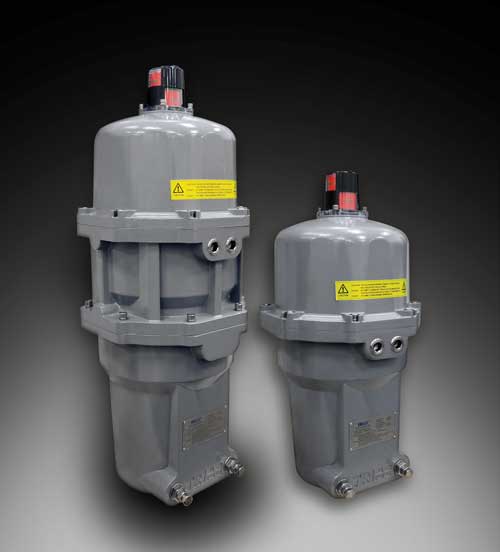 SRX Series: Spring Return Electric Actuators
Spring Return Electric Actuators are used in critical processes to return quarter-turn valves to their safe position even with the absence of power.
Available in 300, 600, 1200, 1800, and 3200 in-lb units in both on/off and modulating.
Explosion Proof, Class I, Division 1, Groups C & D, T4 Design
Weatherproof, Type 4, 4x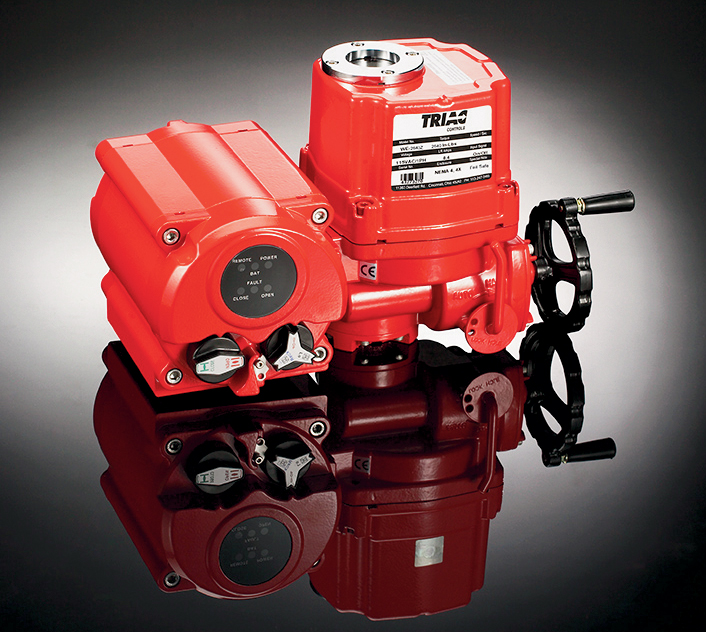 BFS Series: Battery Backup Actuators
The TRIAC® BFS Series battery failsafe electric actuator features a sealed lead-acid (VRLA) battery with capacity for five cycles following loss of power. The battery recharges automatically when re-energized. The actuator is configurable to either fail close or fail open on loss of power supply.
Battery Backup Fail-safe Electric Actuators for Emergency Shutdown Applications
Torques up to 2640 in-lbs
Corrosion resistant housing and enclosure Type 4, 4X & 6, IP65
110/120 VAC/1PH standard motor, or 220/240 VAC/1PH motor option
Sealed, maintenance-free, rechargeable battery
Manual override with handwheel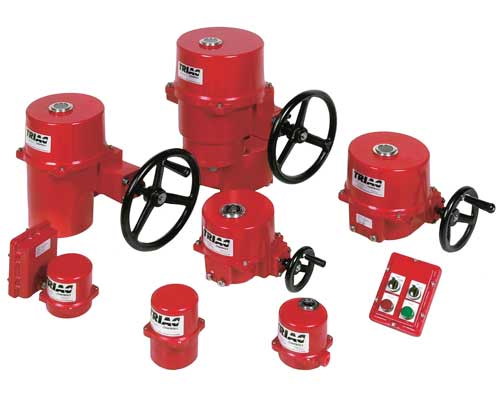 E-Series (Original Style) Triac® Electric Actuator
The original product line of TRIAC electric actuators, E Series electric actuators offer torques from 300 to 30,000 in. lbs. and numerous features including manual overrides, auxiliary switches, 4-20mA modulating control, several voltage options including 1-phase 24/120V/220V - 12 and 24VDC, 3-phase 220v, 380v, and 440v (view voltage chart). The units feature EP-CYCLICAL gear trains and a unique manual override with handwheel. All actuators are Type 4x and are designed for maximum cycle life due to our rugged motors and gear trains. As with all TRIAC actuators, our E Series electrics are available with mounting kits on most ball, butterfly and plug valves. The actuators are ideal for use on butterfly and louver dampers with the increased benefit of self-locking EP-CYCLICAL gears, eliminating the need for unreliable solenoid brakes.
E Series Electric Valve Actuators Feature
CSA and CE Approved
Corrosion resistant Type 4, 4x construction
Self-locking EPI-CYCLICAL gear train
Standard manual override with handwheel
Visual position indicator
Standard two auxiliary limit switches (10amp at 120VAC)
Torque swtiches (2) standard on models ETI-8600 and larger
Optional servo card for modulating service
ISO5211 mounting patterns
14º-160ºF working temperature
E Series Electric Valve Actuator Options
Potentiometer
A optional potentiometer can provide a resistance (0-135ohm, 0-1Kohm, 0-5kohm, 0-10kohm) signal proportional to the actuators position. The potentiometer can give continuous feedback to control panels and other closed loop devices.
Three Position Control
The E-Series actuator can be configured to have three distinct positions. The three position controls is useful in filling applications and multiported valves.
Two Wire Control
When using the optional two wire control, the E-series (2) position electric actuator can be controlled with a low voltage signal. When the voltage is present the spring loaded relay will trip energizing the actuator to rotate clockwise or counter-clockwise. When the voltage is removed the spring will untrip the relay, energizing the actuator to rotate in the opposite direction.
DC Modulating Card
The Triac DC modulating card (4-20mA input) can be used with the Triac E-Series DC powered actuators. Dynamic braking reduces motor coasting and provides improved control. Low standby current (22mA typical) when the actuator is not in operation.
Speed Control
The Triac Speed Control is a compact module that extends the operating time of the E-Series AC powered actuator by pulsing the motor on and off. Extending the cycle time of an actuator can avoid problems associated with water hammer and control system instabilities.
Control Boxes
Control boxes are available for a variety of local control options, such as local/remote open-off-close and jogging control. NEMA 4 housings are used as standard, but other housings are available upon request.
E Series Modulating Control Features
10 bit Microprocessor Controller for precise positioning - eliminates the need for an external deadband control.
Programming of the controller is accomplished by a combination of push buttons and seven position DIP switch without the need for a command signal.
Input signals can be 4-20mA, 0-10VDC, 1-5VDC, Command signal potentiometer.
The TMC2 can be programmed to fail in place, fail clockwise or fail counter clockwise on loss of command signal.
Characterize control - Linear, Quick opening (square root) or equal percentage (square) relationship between the actuator position and the command signal.
On Board - 4-20mA Transmitter (Optional).