TRIAC® Floor Mounted Damper Drives Available in Pneumatic or Electric Configurations
TRIAC® floor mounted damper drives are the best choice for operating dampers, vanes and fan control where high vibration, heat, extreme cold, dust and inaccessibility render direct coupling of actuators to shafts impractical.
Available in pneumatic (on-off and modulating), and electric (24 VDC, 120 VAC 1-phase, 220 and 440 volt 3-phase configurations, these rugged drives combine industry proven TRIAC® pneumatic and electric actuators with our engineering expertise.
The rugged frames can be ordered to dimensionally replace older drives manufactured by several previous suppliers. TRIAC® frames consist of welded steel housings with pillow block bearings, maintenance access panels, and our unique infinite position lever arms. The units are tough enough for the harshest environments found in today's refineries, power plants, steel-making boiler rooms, water treatment facilities, pollution controls, pulp and paper industries and co-generation turbine units.
Contact A-T Controls for specific drawings and specifications for your replacement or new applications.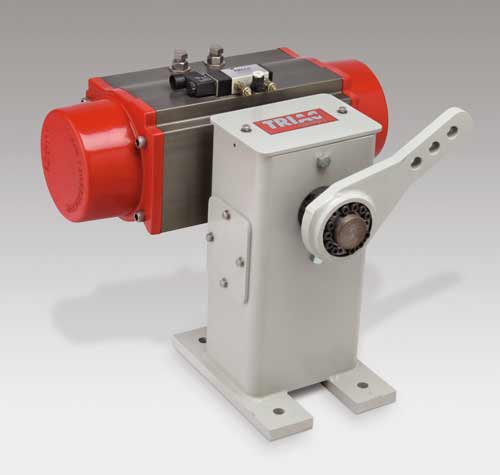 Pneumatic Floor Mount Damper Drive Options
Torque 420 In-Lbs to 300.000 In-Lbs
Solenoid Valves
Limit Switches
Positioners
(4-20ma, Digital, Hart Protocol)
Position Transmitters
Manual Overrides
Air Lockup Circuits
High Temperature Seals
Custom Connection Linkage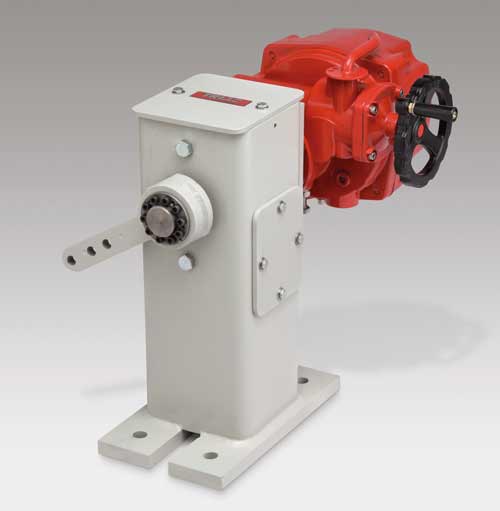 Electric Floor Mount Damper Drive Options
Torque 690 In-Lbs to 80,000 In-Lbs
24 VDC
Single Phase
3-phase
On-off
Modulating
Custom Connection Linkage
Various Applications: Floor Mounted Damper Drives
Dampers | Vanes | Van Axial Fans | ID Fans | Louvers | FD Fans | ID Fans | Seal Air Fans | Process Heaters | Reheat Dampers | SCR Systems | Fly Ash Systems | Bottom Ash Hoppers | Flap Gate | Baghouse