Specials & Solutions Overview
In addition to providing superior service in automated valves and day-to-day automation and controls, our experienced staff specializes in offering solutions to your more unique and difficult applications.
Air Volume Boosters
The AVB Series is an air volume booster that is mounted between the positioner and actuator. It provides the actuator with a high air flow output, whose pressure corresponds exactly to the signal pressure.
Delivers high air volume to actuator
Provides ample air volume flow between positioner and actuator to eliminate over and/or under travel of the control signal
Provides a tight shut off to reduce a costly air consumption
Exhaust filters are installed for prevention of contamination by foreign substances from outside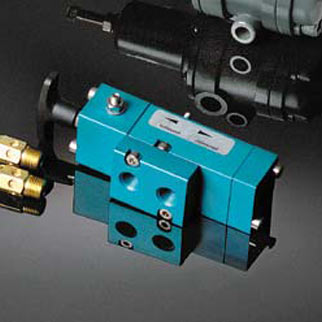 Block and Bleed Valve
The Block & Bleed Valve (BBV) is a NAMUR mounted module for the actuator. The BBV is used as a bypass valve for use with a manual override to shut off supply air and vent actuator ports. The BBV may also be used as a lockout valve which when properly implemented, will satisfy OSHA Standard 1910.147, "The Control of Hazardous Energy."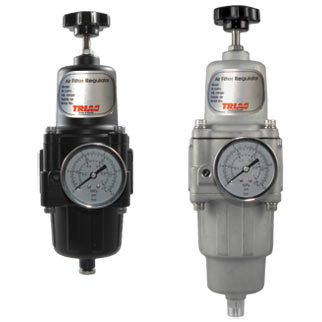 Filter Regulator
Stable setting pressure: Constant output pressure under variable flow rates or supply pressures.
Corrosion-resistant construction: Aluminum die-casting are finished with chromate.
Filter: It is designed to equip with high capacity 5 Micron Filter housed.
Self Relief function: Self-Relief function is operated when the output pressure is higher than setting pressure.
High flow capacity: It is designed to supply sufficient flow.
Disc: It is strong in oil resistance.
Tight shut off: A soft, rubberized pin provides a positive shut off and compensates for dirt and other foreign matter.
Flow Control and Speed Control
Minimizes installation time and cost. Reduces the mounting height and enables compact machinery design. Effective area is larger than the former mode.
Fusible Link
For emergency shutdown in case of fire and high temperature atmosphere.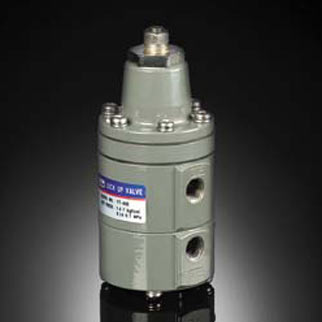 Lock-up Valve
A-T Controls' Lock-up Valve is an excellent choice for all fail-in-place applications when air supply drops below acceptable pressure. The LV-1 can be utilized to maintain valve or damper position when properly connected to Triac® Pneumatic Actuators.
Three Position Dribble Control
The Triac® Dribble Control package is a complete unit incorporating two integral solenoid valves within a specifically configured limit switch designed for dribble control. The dribble control package mounts directly to all Triac® pneumatic actuators without additional mounting hardware.
Common Applications:
Filling or metering vessels - By being able to reduce the flow rate at a given point during a filling operation. It is possible to more accurately and efficiently fill a vessel.
Flow dampening - With the dribble control package, automated valves can be partially closed rapidly and then completely closed gradually. This dramatically reduces shock to pipes and valves.
Valve Position Dome Indicators
Rugged Polycarbonate construction
Provides clear indication of valve/actuator indicator status
Mounts directly to actuators that have NAMUR interface