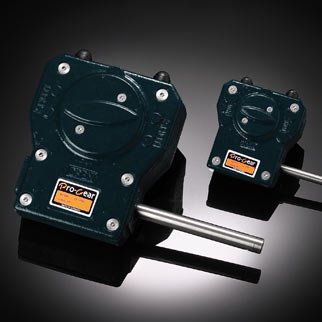 Q-Series: Quarter-turn Gearboxes (Pro-Gear)
The Q-Series quarter-turn gearboxes are rugged industrial grade products, manufactured by Pro-Gear with cast iron housing and components. They are highly suitable for general industrial applications and applications in chemical, power, HVAC and waterworks. The Q-Series gear operators are intended for the operation of ball, plug and butterfly valves as well as power and process dampers. All models in this series feature high performance bearings and a powder coated finish.
Offered in torques up to 620,000 in-lbs
-5° to 95° stroke
-25°C to 110°C (-13°F to 230°F) temperature range
IP68 Sealing
Stainless steel input shaft and fasteners
Standardized according to DIN / ISO 5211
Axial needle bearings | NBR 70 gasket material | Sealed position indicator | Powder coated finish
Insert bush system for flexibility and reduced lead times
Carefully chosen ratios for increased MA rates
Blind-tapped PCDs
Customized options include locking devices, handwheels & chainwheels, low or high temp seals and greases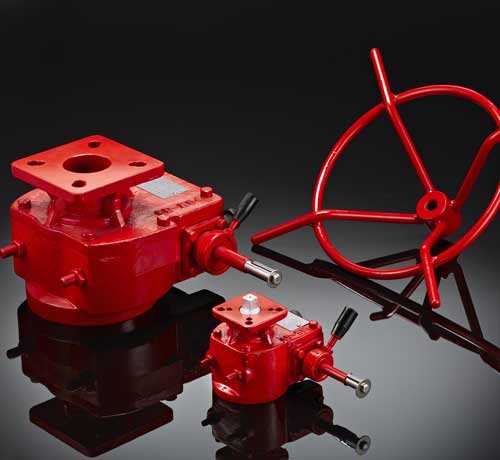 Declutchable Gear Override
The Declutchable Gear Override "Sandwich Mounts" between a pneumatic quarter-turn actuator and a ball, butterfly, plug or damper valve. This rugged device allows for manual operation during installation, system testing and in the event of an air supply failure.
The DGO Series mounts directly to many of the most popular rack and pinion style actuators on the market, and does not require a bracket between the pneumatic actuator and declutchable override. The units come complete with a three-stage coupler that connects to the pneumatic actuator through the gear override and to the valve (or coupler).
Output torques cover a broad range of pneumatic actuator and quarter-turn valve sizes that require the convenience of a manual override.
FEATURES:
There are 2 Industry Standard Mounting Patterns:

3RDGO – Matches the ISO 5211 dimensions
3KDGO – Matches the Keystone 3.25 and 5.00 bolt patterns

3 Stage Coupler (Actuator, Gear, Valve)
Rugged Declutch Lever and Engagement Handle
BBV – Block and Bleed Valve to exhaust air supply from actuator